To strengthen their monetization channels, ABP Network has partnered with Adgebra, glocal ad tech network which fosters added revenue growth from their ad inventories.
Adgebra is one of India's premier glocal ad tech networks. Garnering the trust of thousands of brands and helping them win the trust of millions of digital consumers, Adgebra monetizes ad inventories for 2000+ significant publishers across the globe and it continues to emerge as an innovative and 'atmanirbhar' ad tech platform in India. Adgebra's growth charts continue to rise as it has onboarded many top-tier publishers, expanding its command over various regions in India and overseas as well. Adgebra's ad tech network serves ads to over 500 million users via its network of publishers and is managing 30 billion-plus monthly ad-serving opportunities. 
ABP Network is a leading media network in India, imparting news in multiple Indian vernacular languages, it ensures maximum content distribution with round-the-clock news distribution amongst all major regions in India. With a massive digital audience of up to 600 million page visits and a monthly audience of 50 million users, ABP Network operates across the web and app in 6 Indian languages — Hindi, English, Marathi, Bengali, Gujarati & Punjabi. The network surpassed some of the major networks in terms of audience last year.
Benefits of the deal for both parties:
By partnering with Adgebra, ABP Network gains access to cutting-edge technology that enables them to monetize their digital assets more effectively.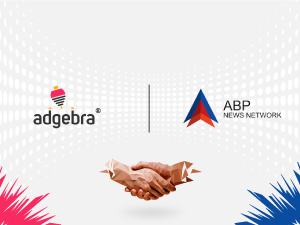 ABP Network is committed to delivering a seamless and user-friendly experience to its viewers. Adgebra's technology allows for non-disruptive ad placements via images and videos, ensuring that viewers can consume news content without being interrupted by intrusive ads.
Partnering with ABP Network gives Adgebra access to a vast and engaged audience. ABP Network's digital properties reach millions of viewers daily, providing Adgebra with an extensive platform to showcase its ad tech solutions. Through in-image and video advertising, Adgebra can offer advertisers high-impact and non-intrusive ad placements, leading to increased revenue streams.
Through its collaboration with ABP Network, Adgebra has been able to demonstrate the credibility and trustworthiness of its ad network, which has, in turn, garnered increased interest from advertisers for its platform.
The partnership with ABP Network presents an opportunity for Adgebra to gradually expand its footprint in the Indian ad tech market. This collaborative effort also paves the way for potential media partners who may find value in exploring Adgebra's innovative ad tech solutions.
Adgebra's In-image and video offerings are unique and provide ABP with an opportunity to generate additional ad revenue while keeping the same level of engagement with their Regional language audience and enhanced ad relevance.
Quotes:
"ABP Network is a giant multilingual content consumption platform in India. Adgebra provides a massive opportunity to influence monetization funnels with regional language supremacy. Adgebra's self-serve platform is bound to raise the bar for advertisers. It is kind of a win-win for every entity in the ad tech ecosystem."

Shashikant Anpat, AVP – Adgebra
"100% accuracy in ad translation and delivery is promising for a media network like ABP, which itself is a dominant network in vernacular languages. We believe Adgebra's unique adtech capability in video ads and In-image ads will generate a quality KPI and open newer avenues for revenue within our ad ecosystem. Adgebra translates ads in accordance with the demographics of ABP's readers and displays ads in the language users read. This provides the news network to cater to its audience in a more personalized and comprehensible manner."

Amit Qazi, Account Director – ABP Network
Conclusion:
Publishers are looking for newer avenues for monetization without jeopardizing the user experience. Adgebra has spearheaded the art of newer rev-gen opportunities with tech capabilities centred around the localization of ads.
The partnership between ABP Network and Adgebra's glocal ad tech network is a clear win-win for both parties. ABP Network gains access to cutting-edge advertising technology that enhances its monetization efforts while improving the overall user experience. Adgebra, in turn, benefits from an expanded reach, increased credibility, and valuable real-world testing opportunities. As the media and advertising landscape continues to evolve, strategic collaborations like this one will play a pivotal role in shaping the future of the industry, delivering value to both parties and advertisers alike.
Contact Shashikant Anpat for Adgebra's unique publisher solutions.