Dun & Bradstreet List of India's Leading SMEs of 2022 nominates Adgebra by Inuxu Digital Media Technologies as India's leading SME.
SMEs are key drivers of financial growth in the nation with a high potential to catalyze the overall economic development of a country. The SMEs sector currently contributes to about 30% of India's GDP. It is the nation's second-largest source of employment, and India's startup ecosystem has become the world's 3rd largest, thus propelling crucial factors toward all-inclusive growth and the future of the country.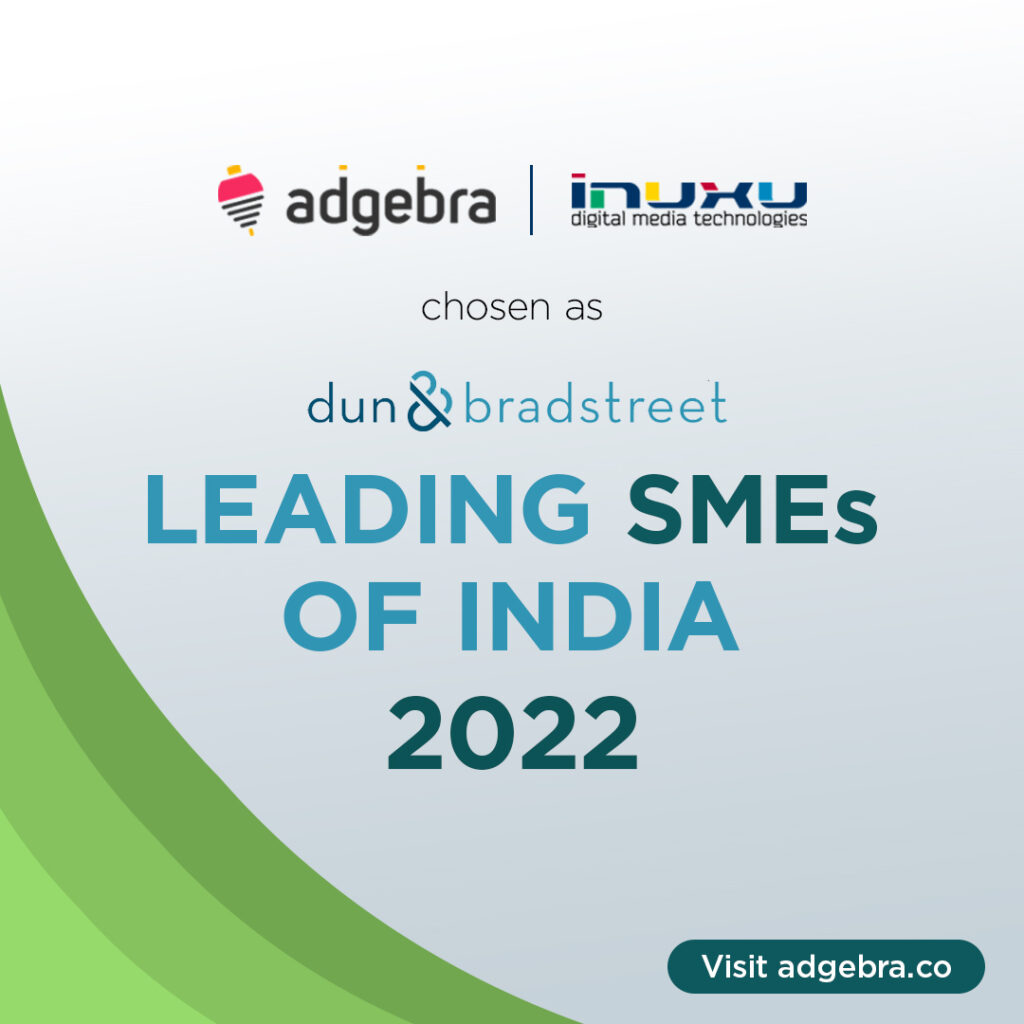 India's entrepreneurial spirit is growing and the ecosystem is collaborating to produce this new generation. India is on a path to becoming one of the world's leading countries in driving a new-age innovative entrepreneurship-driven economy. SMEs and MSMEs contribute to 30% of India's GDP and about 50% of the export market revenue. The government of India has been extremely supportive in the push towards making India 'Aatmanirbhar', which has also been an accomplishment of the changed and progressive reforms and policies(Financial, investment, skill development, training, technology sharing, handholding, etc.) that are helpful for the SME and MSME sector growth in India
Dun & Bradstreet India's publication in its 13th edition 'Leading SMEs of India' captures the pulse and the dynamics of Indian SMEs. The credibility of each organization on the list is determined via rigorous procedures, Dun&Bradstreet sought various financial details from FY21, FY20, and FY19 —based on Ministry of Corporate Affairs, Exchange websites and other government reliable sources; examined annual reports and audited statements along with qualitative information from the organizations. This publication is a well-recognized actuary within the Global CXOs, SMEs, government ministries, and industry associations. For the featured SMEs, it is a global platform of recognition.
The 2022 edition of Dun&Bradstreet revolves around the theme: Time for India's New Age Entrepreneurship
New-age India is operating at a miraculous speed and with great wit. India is the world's fastest-growing internet market and the second largest.
Adgebra is a leading glocal adtech platform, a pioneer of multilingual and multimedia advertising in India. Reaching the untapped and undocumented new-age internet users with our ingenious audience segments. Connect with 500mn+ global Indian ethnicity audiences across premium publishers to drive brand discovery, awareness, engagement, and actions. Adgebra supports ad translations with a unique hybrid translation model (AI + Human translations). Adgebra has been a pioneer in bridging the gap between regional language consumers, brands, publishers, and advertisers.
Innovating in the Adtech space while increasing ad relevance for the end users, Adgebra Ads are amongst the highly reliable and key performers in marketing funnels. Adgebra empowers brands to precisely target their desired audience. It enables a reach of over 500 million users via its network of 2000+ partner publishers and 1000+ advertisers, having 30 billion and more ads served monthly.