Focusing on product development with advertiser centric approach at its heart, Adgebra announces two features that promote interactive advertising, 'Click to Call' and 'Click to Whatsapp'. Our advertiser insights tell us these are the accessibility features advertisers and brands have been looking for!
Adgebra has successfully empowered more than 1000 brands to reach audiences across India's top sites/apps. With a monthly unique reach of 500 M+, 30 B+ impressions, and delivering 1 lac ads per second on the internet, adgebra has built prominent expertise in the industry. The engineering team at Adgebra constantly persists to upgrade the platform making interactive advertising even more effortless and cutting edge. Our New features — 'Click to Call' and 'Click to Whatsapp' are designed to provide a simpler, more intuitive way for advertisers to connect with users and achieve desired goals.
Unlocking audience engagement opportunities with Adgebra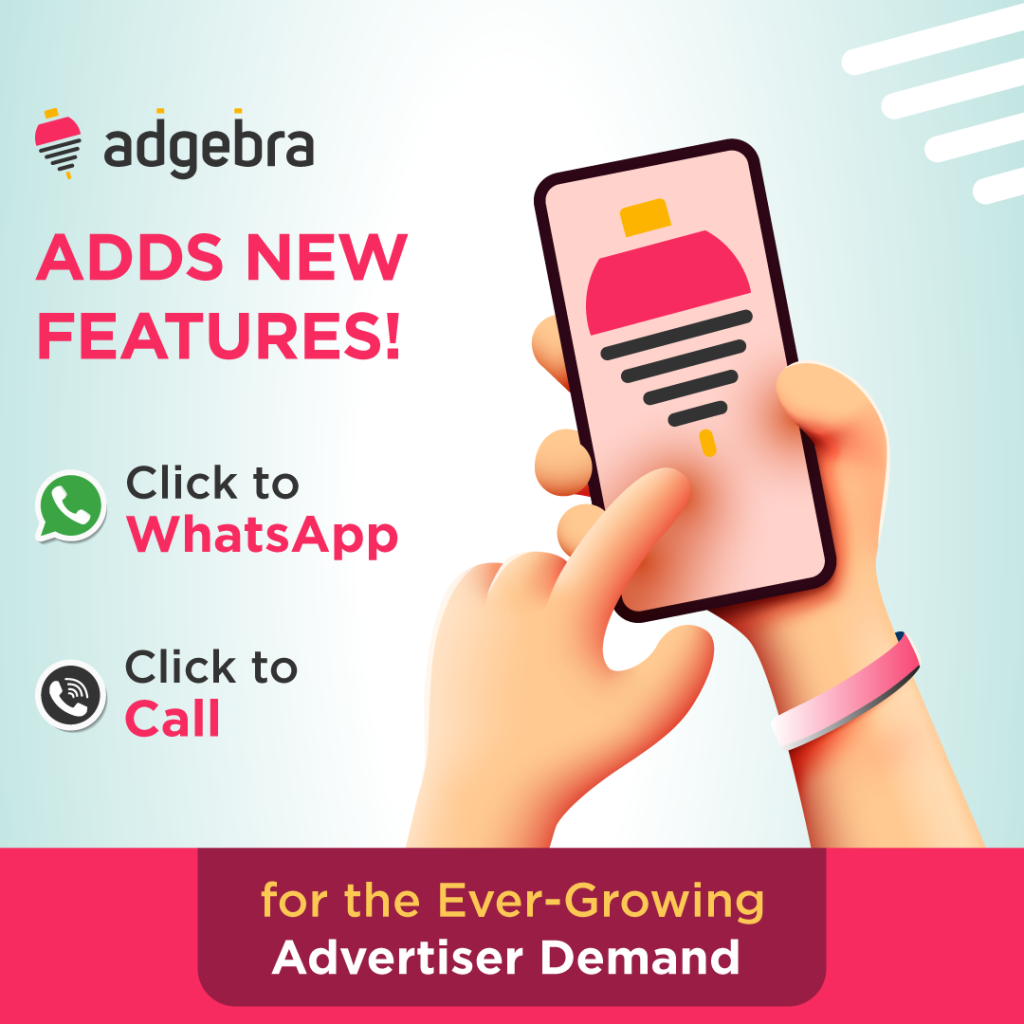 Adgebra is a platform that is constantly upgrading based on its advertisers' inputs. It sure requires diligent efforts and user-centric teams to roll out features that are meaningful while making it profitable for the brands and advertisers. With Click to Whatsapp and Click to call features, Advertisers get an opportunity to directly connect with its user right away and handhold potential sales in real-time.
Our advertisers' survey inspired us to bring in these two new features to reduce sale handling time, increase engagement, acquire quality leads, and make the direct sale process faster. Our pilot campaigns proved to have improved audience engagement by three times and delivered higher-quality results for 10+ brands.
Advertisers can now gather useful engagement data via interactive advertising and connect with quality leads directly via our two new ad features- 'Click to Call' and 'Click to Whatsapp' directly from the ad widget. 
The Advertisers demand high user engagement and quality leads, and we, at Adgebra believe in doing so, the platform is powered by Deep Learning technology that uses Adgebra's unique data about people's interests and advertiser demands. With careful calibration, we have launched these new features to trailblaze your customer interaction, enable direct contact from ads and make your brand more open and available for the users.
Shashikant Anpat, the AVP, and Nikhil Gadekar, the Product Manager, along with the team build these elevators for our advertisers. Here's what inspired them-
"Customer connection paves the way for higher sales and expedites the revenue growth for the advertisers. When connecting with a brand is just a matter of a click, customers feel valued and prioritized. Connection with the customer needs to be a two-way street. Such Connectivity features bridge the gap between the advertiser- the sales process- and the end user. Advertisers and brands demand a direct connection with their customers to take charge of their sales more ferociously. Adgebra is a Customer-focused platform, hence, builds advertiser-centric features for the brands."
Benefits of Adgebra's New Ad Features:
Improved audience-targeting and engagement with high-volume quality leads
New customer CTA features to help you transform leads on Whatsapp or via call
Direct contact options that cut short the conversion processes
Ad user engagement process is cut short reducing bounce rates
No need to fill out needless forms and browse complex landing pages
Run your campaigns with Adgebra at your optimal availability to maximize scalability
Optimize the overall ROI of your campaigns
Register here, to create campaigns on Adgebra, create a campaign and start building your success with us.
An open door always means more customers than having a glass door with an open sign on it –allowing users a gateway to get in direct contact with the brand allows them to experience fast, hassle-free, and personalized service. This also serves the brands and advertisers with verified quality leads and interested customers' data that is direct from the customer, definitely a qualified source for real leads!